Simon used to be a RALLY CO-DRIVER
In 1970, during Freshers' Week at Sheffield Polytechnic, Mick Drinkall who I had known at my Primary School (St Wilfrids, Sheffield) encouraged me to join SHEFFIELD STUDENTS' MOTOR CLUB (SSMC). It changed my life.
SSMC was mainly interested in car rallying, and was an excellent learning arena. Classes were held in Navigation and other aspects of Rallying. Mick Drinkall also encouraged me to become a Marshall. Many evenings and weekends were spent standing by the side of some remote country lane waiting for something to charge out of the blackness and frighten all the animals in the field beside you before screeching to a halt beside you. As the driver impatiently revved his engine, you marked the Navigator's Route Card and at the appointed moment sent them back into the night. Sometimes the Marshall's duties were a little more controversial, though I am sure I don't know how that Temporary Traffic Light came to be covered up with a large sack (but the Milk Tanker missed the Escort anyway!)
My experiences with SSMC got me hooked, and many years were spent throwing money after tatty, unreliable, noisy, uncomfortable cars, that at best deprived you of a good weekend's sleep, and at worst hurled you into the scenery intent on breaking your bones. Fuck Computer Games ! There WAS life before Nintendo, before Playstation One or Two, before Video, CD, Mobile Phones etc. "Virtual Reality" was about prizes you NEARLY won, or deaths you nearly died, NOT about some fantasy you had with a gaming console lying on your Duvet. This was FUN, this was ACTUAL REALITY.
SSMC also encouraged me to edit the Newsletter - not sure how well that went, though they probably asked me simply because I had a typewriter. Yes, a TYPEWRITER, Desktop Publishing and Computers did not exist in those days.
I left Sheffield in 1972 and went to live in Cornwall, but Motorsport went with me. I joined Truro & District Motor Club, whose Honorary President at that time was Donald Healey (of Austin Healey fame). Almost immediately I became editor of the newsletter, publicist, South western Motoring Correspondent for Autosport, Motoring News, Rallysport, and newspapers from Bristol to Lands End. I Marshalled at events, was Secretary of the Meeting, was on the committee, and even managed to do a few years of being a co-driver too !!! Here are some pictures.
click pictures below for full size views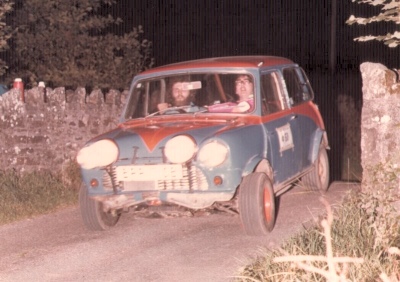 Somerset 1978, Straight Cut Gearbox Mini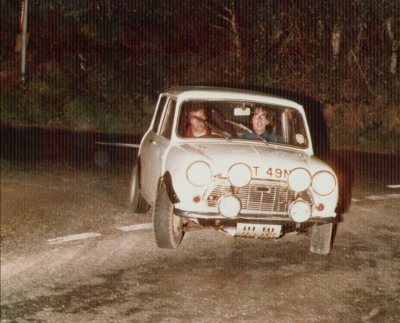 1980 Mini Cooper 999S in Cornwall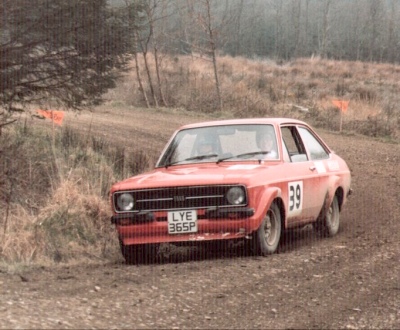 1979, North Devon, Ford Escort RS1300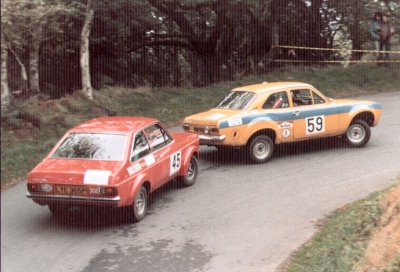 Porlock Hill, just before we pass the yellow Escort
key text: This is the page introducing Simons love of cars from the website RedSimon which is a series of photo albums of Simon GP Geoghegan.
The names of Pinin, Farina, and Pininfarina are also considered
There are also notes on Pininfarina
as well as the car maker
and links tothat car maker